6 Reasons to Buy a Toyota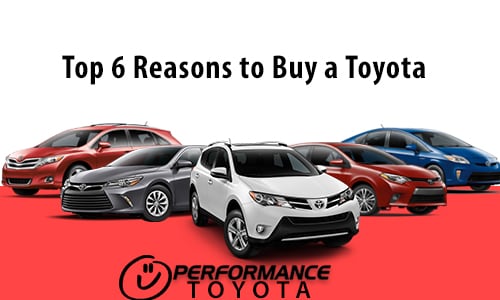 When you're in the market for a new car, you have no shortage of options. So, why buy a Toyota? Here, we break it down with the top 6 reasons you should make your next vehicle a Toyota:
Safety
Toyota cars are continually named "Top Safety Picks" by the Insurance Institute for Highway Safety. In fact, in 2013, 21 Toyota vehicles were named to the list. Toyota is also the first major manufacturer to make the Star Safety System standard on every vehicle they make. This system includes an anti-lock brake system, traction control, brake assistant, vehicle stability control, electronic brake force distribution, and smart stop technology. And, Toyota continues to invest more money in making their cars the safest on the road. Did you know Toyota spends over $1 million dollars every hour on research and development?
Reliability
"Want to drive the world's most reliable car? Try a Toyota." Headlines like these echo rankings from Consumer Reports: Toyota is the most reliable car for the eighth year in a row. Toyota also topped J.D. Power rankings for car dependability in 2015. Want more proof? Check out this fact: 80% of all Toyotas sold in the last 20 years are still on the road today.
Fuel Efficiency
Toyota has consistently been named one of the EPA's most fuel-efficient automotive manufacturers. With a vast selection of hybrid models, an electric SUV (RAV4) and a forthcoming fuel cell vehicle, Toyota has alternative cars for every lifestyle. Even if you're in the market for a standard gas vehicle, Toyota cars, trucks, SUVs, and minivans will give you bang for your buck at the pump.
Low-cost maintenance
Every single new Toyota comes with ToyotaCare, which gives you free scheduled maintenance and 24 hour roadside assistance on your new car for two years or 25,000 miles. Edmunds.com writes that the Toyota Corolla has the lowest maintenance costs of all top-selling cars—even at the 100,000 mile mark.
Support American Jobs
While Toyota is a Japanese brand, when you buy a Toyota, you're supporting jobs across the U.S.—365,000 jobs, to be specific. Toyota has 10 manufacturing plants in 4 U.S. states. Toyota vehicles regularly top lists for "American-made cars." In fact, your new Toyota Camry was built pretty close home in Ohio: Camrys are manufactured in Indiana and Kentucky.
Resale Value
When you buy a Toyota, you're making a sound investment. Reliable sources, like Kelley Blue Book and Edmunds.com, consistently rank Toyota models among best resale value. If you ever want to trade in or sell your Toyota, you can rest easy knowing your car will still be valuable, years after you bought it.

If you're looking for a great price on a new Toyota or a used Toyota in Cincinnati, visit our dealership in Fairfield on Route 4. If you're lucky enough to already own a Toyota, don't forget to visit us for maintenance and service to keep your Toyota running like new!
Source: New feed